Dual coding: Do you want to use CPT and ICD-10-PCS codes?
The only reason you will be required to used an ICD-10-PCS code is if you are coding an inpatient procedure at a hospital. All outpatient procedures will need to be coded using CPT coding.
Physician practices will need to use CPT for all procedures.
Which is a big relief for many healthcare providers. That's quite a bit of training they can skip. It's not just codes. But anatomy, physiology, terminology and procedures that aren't covered in ICD-10-CM training need to be learned.
And some experts believe the diagnostic documentation is nothing compared to procedural documentation.
So it's a good thing if you don't have to worry about ICD-10-PCS implementation. But will it be a good thing if you do anyway?
Bonnie Cassidy, senior director of HIM Innovation for Nuance the 2011 president of the American Healthcare Information Management Association (AHIMA), thinks there may be compelling reasons to use ICD-10-PCS codes in addition to the CPT codes [1] required.
Basically it comes down to data and using it:
"If you want to be a progressive organization, you need to embark on something that allows you to have better information for analytics.  You then will be a step ahead of the game because you'll have that ICD-10 data in addition to your CPT data."
If you're sold on the value of all that diagnostic data then shouldn't procedural data be valuable too?
I don't know. Tell me. Is it worth it?
Collecting all that data from diagnoses and procedures sounds like a great idea. But will healthcare organizations actually use it? Tom Olenzak, Director of Innovation at Independence Blue Cross, argues that providers don't have the technology to aggregate and analyze data. Also, it isn't in the culture. So what's the use?
Well healthcare payers' business depends on analytics. They are in strategic position to share information and help all organizations use it. (EHRintelligence.com [3])
The argument is that ICD-10 coding changes how physicians will account for who does what and why. This is necessary for providing good healthcare. Does this mean healthcare isn't good in an ICD-9 world? (No World Borders [5])
That post referenced earlier also makes other interesting points:
Healthcare organizations are putting effort into contingency planning.
Working with healthcare payers and vendors while managing the ICD-10 transition is a bit arduous.
Don't forget clinical documentation improvement.
Secure your physician champions.
Part of contingency planning should be preparing for the possibility that key personnel should leave.
Note the last point shows there is more to contingency planning than saving money [6]. (EHRintelligence.com [3])
Elizabeth Morgenroth has some good advice for medical coders trying to get their head around the ICD-10 code sets. (ICD10Watch [8])
The goal of this article is to improve documentation so that it supports ICD-10 coding. And it boils down to three principles:
"Engage physician advisors early and often"
"Offer peer-to-peer training"
"Rollout changes by specialty"
(For the Health of IT [10])
Get informed about ICD-10 coding.
Assign the ICD-10 project to someone who will own it.
Start talking to your trading partners.
Prepare your contingency plans (which means start saving cash reserves).
(insidePatientFinance.com [12])
Recommended best practices for clinical documentation:
"Every document is an accurate, detailed, and complete description of the patient encounter."
"ALL healthcare documentation is eligible for quality assessment (QA), regardless of content capture method."
"Quality assessment workflow needs to be consistent, unbiased, and provide feedback for continuous improvement."
"Documents are available to whoever needs them, whenever and wherever they are required."
(3M Health Information Systems [14])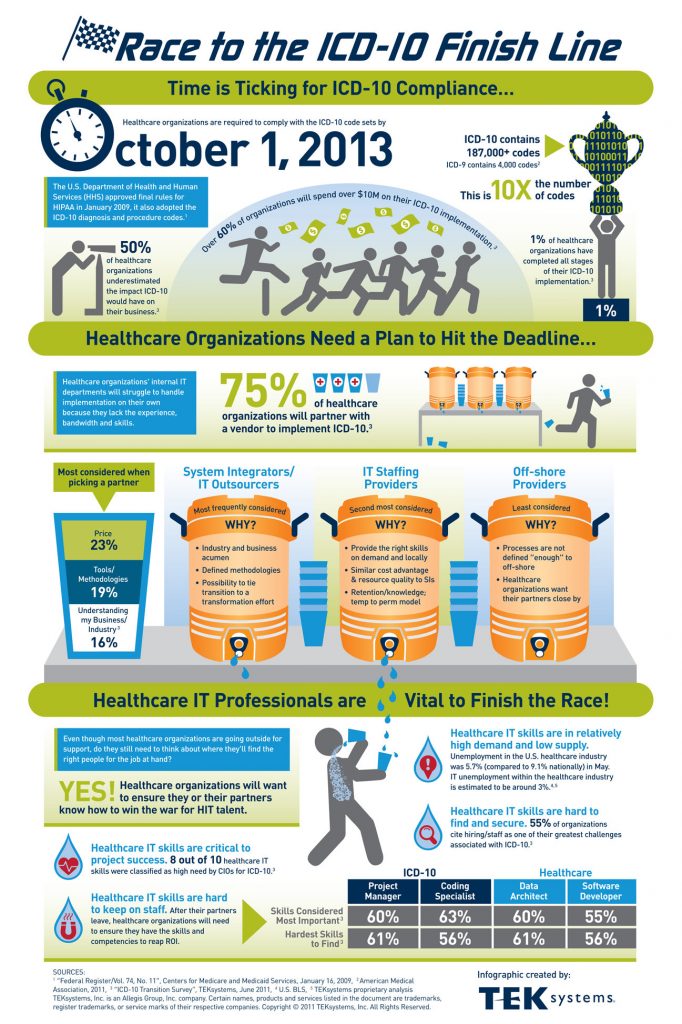 [16]
(Capture Billing [17])
For the most part, the healthcare industry seems ready for Oct. 1, 2014.
Large providers such as hospitals are in good shape.
Physicians will have a challenge.
This means opportunity for HIM professionals to save the day.
Small medical practices need to do something — anything — to get ready.
(EHRintelligence.com [3])
ICD-10 testing will be more complicated than sending medical claims to healthcare payers and asking, "How's that?". (ICD10Watch [8])
There aren't exactly eight questions regarding fraud in this post. Basically, it takes a long time to establish that the mapping process could result in inaccuracies and errors. Those mistakes could look like fraud or vice versa. (Government Health IT [21])
Here's an interesting idea. Emdeon will accept test claims from healthcare providers and make them available to payers. They hope to make the testing process easier and facilitate the exchange of feedback. It looks like the biggest advantage to this service is that EMdeon will quickly see a lot of problems and be able to share valuable takeaways with clients. (Emdeon [23])